Build your business on a strong foundation. We planted our roots in 1865 — and we aren't going anywhere.
Key Features
Competitive Rates
Local Processing
Details
Competitive rates for the purchase, refinance, or construction of commercial properties
Available for owner-occupied or investment properties
Repayment terms that work for your business
Lending professionals with working knowledge of the Central Ohio real estate market
Quick, local decision-making and processing
Attentive, friendly service from start to finish
Meet Our Team
---
Mary Ann Potter – Vice President of Commercial Lending, Worthington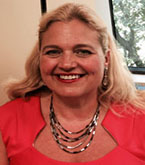 Office: (614) 781-9500
Email: [email protected]
Location: Loan Office

Mary Ann Potter joined Fahey in March of this year as Vice President of Commercial Lending. Mary Ann has been in banking in Central Ohio for over thirty years, starting off as a teller, and working her way up the ranks, by always asking what needed to be done, and then finding a way to make it happen. In the past twenty-five years of her lending career, she has made loans on office and retail spaces, subdivisions, apartment complexes, warehouses, and churches, although her favorite part of the job is renovation and construction loans.
Mary Ann is a proud graduate of The Ohio State University, as well as The Methodist Theological School in Ohio (METHESCO) from which she received her Master's in Theological Studies. Mary Ann comes from a large family that traces their Columbus roots back, prior to the Civil War. Her fall schedule revolves around the Buckeyes Home games, and winter finds her using her season tickets to the basketball games. Free time on the weekends is spent at the Farmer's Market, swimming laps, or on the bike trail.
When asked what she spends her time on, her answer is "Networking!" Mary Ann can be found out in the community at real estate/charity/political/ educational events, most evenings. She is past president of Columbus CREW (Commercial Real Estate Women), and currently a member of CREW's membership committee, CCIIR (Columbus Commercial Industrial Investment Realtors), and Vice Chair of CCDC (Community Capital Development Corporation) which is an SBA Lender in Central Ohio.
---